So, I got a tweet from PedroFFerrai asking, "Cigar box uke? Wtf?"  WTF, indeed, my friend.  I hadn't heard about cigar box guitars or ukuleles until I read it in this issue of Make Magazine (which is an incredible magazine, by the way).
Then, just a few weeks later I see a guy selling them at the local farmer's market.  I bought my first one for $99 and it's a real beauty.  Here's some pictures of  her: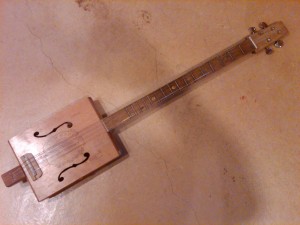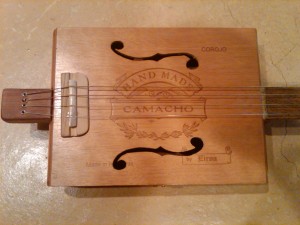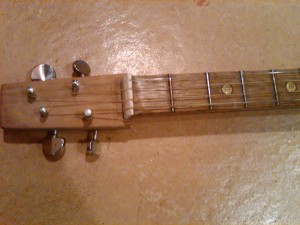 The details are my favorite thing about this guitar.  For example, both the bridge and the nut are made from elk bone.  The fret markers are 22 shell casings.  Oh shoot!  I didn't take a picture of the input jack.  Yup, that's right.  There is a piezo in there so you can plug it into your amp.  It's not an awesome sound, but you can still make it pretty fun.  I'll upload a video of it soon.
So, some weeks later I'm at a show and I see a guy playing a cigar box guitar that's similar to mine by the amplified sound is really great!  I talk to him and it turns out that the fella that made my first cigar box guitar has taken it up a notch.  He's getting pickups hand wound for him now.  So, of course, I had to get another one commissioned.  I think it was like $250 and here's some pictures of it: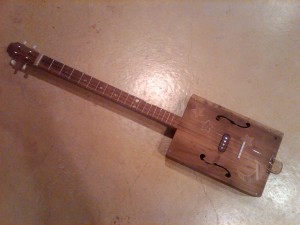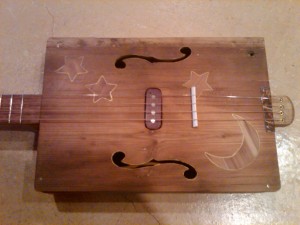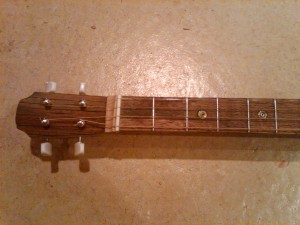 This one isn't technically a cigar box guitar because it's made of old barn wood.  The tuners are recycled from some old broken guitar I think.  All in all, it's a real beauty, but I'm still working on the tuning for it.  It has a floating bridge that I can never seem to get where I want it.  Also, the guy that makes these guitars is more of an outdoorsman type and not so much of a luthier.  So, they are pretty rugged and rustic.  But, I like the challenge of playing them.  It makes you feel like you should be in the Mississippi Delta and also blind (possibly considering selling your soul at the crossroads and whatnot).
So, you want one of these buy you don't want to buy the Make Magazine.  Well, for heaven's sake, don't just buy the magazine to learn how to make the guitar (although, if you like fun projects and general nerdiness, then you really should subscribe, it's my favorite magazine!).
Check out some of these links:
Get building!