I'm not exactly sure how I found this. Oh wait, yeah I am. So, I setup an automatic eBay search to tell me whenever a Tangi ukulele gets posted. Why would I do that? Hmm.. maybe you haven't heard of the miniature Tangi ukulele? This thing makes the Kala Pocket Ukulele look like an upright bass.
So, I MUST have one, thus the automatic search.
Well, you can imagine my surprise when my eBay search net caught a whale instead of a minnow. Yup, besides making the world's smallest ukulele, Tangi also makes the world's largest playable ukulele. Look at this freaking thing!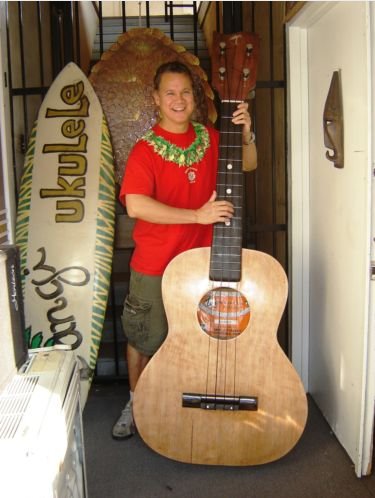 It makes an upright bass look like... well, I guess it would still look like an upright bass.  But, this thing is HUGE!  What's more, it's for sale on eBay (click the picture).  But, get ready for disappointment, unless you are some sort of debutante or one of the Koch brothers.   A cool five grand is what it's going to take to get your hands on that baby.  Plus, you still need to drive to Hawaii and get it.  Yes, drive.... floating car.  Duh.  Anyway, here's some more details on this monster.
It weighs 40 lbs and is 6 1/2 feet tall.  Tangi made the ukulele in 1996 for Tangi Tully's birthday.  It took 27 Tangi employees a full month to build it.  This giant ukulele is completely tunable and playable.  The tuners were custom machined.  The body of this massive ukulele is mahogany and the fretboard and bridge are ebony.  The white inlay is made of ox bone and the inlay is mother of pearl.  In short, this isn't a cheap decoration.  This is a freaking work of art.  Now, give me money so I can buy it.